The disconnection of the summer holidays is almost always crossed by a concern: that nothing happens at home until we are there. Security experts give their recommendations to deter theft and rest.
After days or weeks of anguish to close the year, to leave the dough done, to reserve the accommodation, to check the car, to plan the trip, to buy what is missing, to organize the trips and to make sure that everything is in order for the long-awaited vacation, And just when you leave town ready to unplug for a few weeks, an anxiety factor kicks in that might not leave you until you get back: what will happen to home when I'm alone.
There are not very precise figures in this regard, especially since after the social epidemic and the pandemic many trends have changed, but the feeling that home burglaries are increasing during the summer has a some support.
"During summer or holiday periods – whether long weekends, holidays or winter – we see a 10-15% increase in these incidents," says Patricio Bustos, responsible for the alarm monitoring area. Verification a company specializing in residential alarms with nearly 115,000 customers.
Let's go for a walk: what things you should check in your car before going on vacation
A trend also identifiable in the municipality of Providencia, at least until before 2019: although they are decreasing year by year, according to Francisco Díaz-Valdés, director of Security of this municipality, thefts tend to increase somewhat during the first trimesters. "Thieves know that houses are more vulnerable," says Bustos.
But those numbers and those cases are the last thing you want to know while driving down the highway with hundreds of miles to go, or waiting for the plane to take off, or however you're going on vacation. Is it possible to rest knowing that the beloved home is left alone and empty, with no one to defend it?
Let's face it: WhatsApp community chats are often exhausting. Unsolicited news abounds, exaggerated complaints, annoying memes and stickers of dubious taste. We almost all keep them quiet, few of us pay attention to them, but in these circumstances it is advisable to remain active in the group and in good humor with the other neighbors.
At least that's the number one thing security experts suggest, because keeping the block informed and communicated can significantly reduce the risk of a home being broken into. "The key is the community you can create around your home," says Bustos.
"It always helps to have contact with the neighbours," adds Díaz-Valdés. "The community's WhatsApp is very useful for getting information and being alerted quickly in case of suspicion." In some of these neighborhood groups in Providencia, he says, there are township security personnel, so they are immediately notified of any notices of theft or burglary.
Summer teleworking: tips and products for connecting to the internet outside the city
Whether it's through these chats or older, less used methods such as greeting and introducing yourself in person, it's always good to have a relationship of trust with your neighbors, especially those who live next door. .
"You have to tell them that you are going on vacation, that they know the house will be empty and that they can watch it daily," suggests Bustos. Even better if they share a key to get the mail out, the newspaper if he's subscribed, and any indication that there's nobody in there.
The goal is that the house does not seem so uninhabited, that there are some signs of life in it. If you are not a neighbour, you can ask a friend or relative to come over once in a while, ideally at night, to turn on the lights, among what has been left outside and give movement to the House.
"We have seen that thieves are becoming more tenacious and reckless, but in general they continue to try not to run the risk of running into anyone in the houses," explains the Verisure manager.
Just as it is convenient for the community and our environment to know that we will be on vacation, it is better not to share our trip too much on social networks. There is sufficient evidence that the criminals discover or confirm the absence of the residents through the photos they post on Facebook or Instagram.
Flies don't enter closed doors
As obvious as it may seem, having good locks on access doors, as well as tightly closed windows, is an important theft deterrent. It is said that criminals will always manage to enter wherever they want, but the fewer access points they have, the less attractive it will seem to them.
"Ideal if you have an alarm system," says Díaz-Valdés. The same, of course, suggests Bustos, who works at a company that provides this service. The format that could provide more peace of mind is that of always-on surveillance, in which someone monitors 24/7 what is happening outside our home through security cameras.
But since not everyone can afford such a service, the recommended thing would be to reinforce the doors instead — add an extra lock, if you only have one, it will never hurt —, check that the window latches work, and if you have blinds or some other protective element, even better.
Scanavini 2002-CI.N lock (for doors from 30 to 50 mm)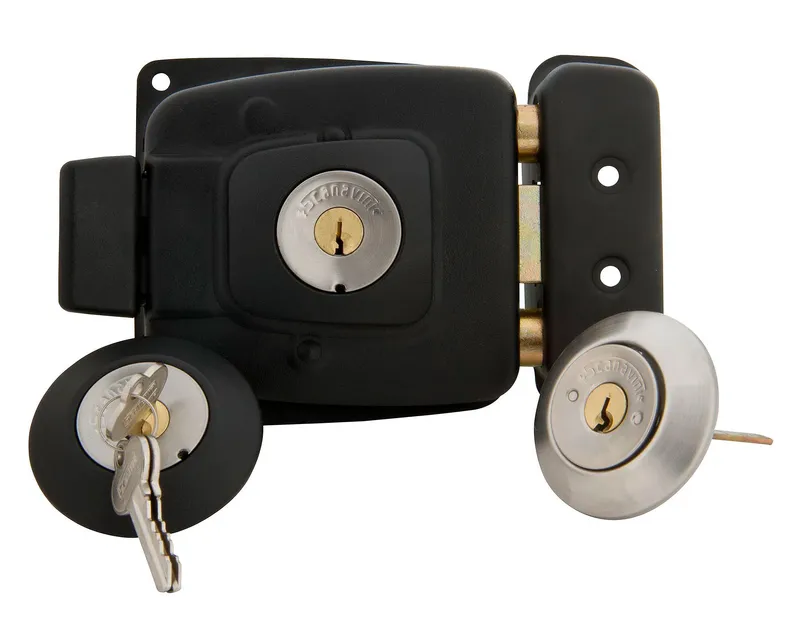 ---
The previous Scanavini lock, for example, has a two-pin bolt and the key turns three times. It is easy to install and suitable for entry doors or access bars.
"Installing multiple locks, especially in apartments, will both help prevent theft and increase our peace of mind when we're not there," says Providencia's security manager.
He also suggests leaving your home's interior doors locked, if they have them, to add another barrier.
What if my neighbors aren't trustworthy and we also don't have someone who can come to the house as often? There's nothing left to do like My poor little angel and pretending that there is a lot of life in the house, even if the only living things there are the plants.
While Macaulay Culkin's character had to resort to cardboard mannequins, dolls and figurines, less ingenuity but more technology can be called upon with smart lights.
These bulbs, which from the outside look like no other, are able to connect to the internet and can be controlled remotely using a mobile application. No matter where we are, if we have a network connection we can turn them on, turn them off or even change the color of their light.
Nexxt Solutions Smart LED Bulb (3 units)
---
They are not very cheap but their LED technology gives them a long life. There are some that are "smarter" than others, but if the goal is simply to turn them on remotely, anyone who connects to the Internet will do their job. The requirement is that the house has a good Wi-Fi connection while nobody is there.
But if connectivity is an issue, there are the old and expensive timers, outlets that come with an included clock and can be programmed to match the device they're connected to – in this case, table or floor lamps. – light up at the same time as determined.
Completel 2200W Digital Timer
---
"If you are going to use these types of lights, it is practical to leave the curtains a little open, so that you can see that they are on", explains Patricio Bustos. Many people think that the more the outside view of the house is blocked, the safer it will be, but Francisco Díaz-Valdés says the opposite is true.
"Greater visibility from the outside makes it more difficult to enter a house," he explains, because the thief is more exposed to being observed from the outside. But with continuous walls or covered bars, "if a person enters nobody sees it".
But if from the street it is possible to look inside, it will be essential not to leave valuable things in sight, such as bicycles, tools, motorcycles and other items that attract attention. "Everything should be kept as concealed or concealed as possible."
---
*Prices for products in this item are updated as of January 27, 2023. Values ​​and availability may change.
Source: Latercera