The Argentine electorate elected the candidate of La Libertad Avanza as the fifty-fourth president in its history. We then talk to you about his passion for cars and garage vehicles, especially the one with the lion logo.
Since last night, Argentina has a new president, the economist Javier Milei, who, with 55.76% of the votes, beat the Peronist Sergio Massa. During his government – ​​which begins on December 10 – he promised that the country would once again become a global power, which could have a direct impact on the trans-Andean automobile industry.
And Argentina's president-elect is a supporter of free trade, Western consumer culture and also the automobile. She thus has the support of important businessmen in the sector: "The values ​​of freedom are returning to Argentina after 100 years", celebrated last night Cristiano Rattazzi, main shareholder in Argentina of the Stellantis group (alliance of Fiat-Chrysler and Peugeot ). -Citroën) and partner of Módena Auto, importer of Maserati cars in the country.
Even tech mogul and Tesla owner Elon Musk was surprised when he commented
Beyond contingency – and what will happen to the Argentine automobile industry during his mandate – Javier Milei declared himself an absolute lover of cars. In this regard, his close friends said that he always loved driving and was fond of "sports cars".
In fact, in many of his talks he used them to compare different business models. For example, to criticize the fact that in the Soviet Union there was a "horrible" Lada, while on the other side of the Berlin Wall, in the west, there were Rolls-Royces or Bentleys.
Of course, the new Argentine president has neither Rolls-Royce nor Bentley. At least make it known. He owns two cars that could be considered quite earthy: one is a sports car and the other is a pickup truck.
For the affidavit that all presidential candidates must make before the Anti-Corruption Office, Milei is known to own a Peugeot RCZ and a Mercedes-Benz Sprinter van. Additionally, in recent years he has been photographed with a Mazda MX-5 (also known as Miata), the world's most popular two-seater convertible.
Until now, his main vehicle was the Peugeot RCZ, which he acquired new in January 2013. With this car he recently appeared on the Argentine show Bailando hosted by Marcelo Tinelli. The then presidential candidate for Libertad Avanza arrived at the studio in his private vehicle to pick up his current partner, Fátima Flores.
Then Tinelli told him they lived in the same neighborhood. Can you take me later because your house is three blocks away?, the presenter asked.
"This shouldn't happen. "It's a car for two," Milei replied. If I go to Fátima, can't I? He insisted, but the politician ruled out the possibility: "It wouldn't be the best thing. »
The Peugeot RCZ is a 2+2 coupe presented at the 2009 Frankfurt Motor Show and produced until 2016. It was the French brand's direct bet to compete with the Audi TT, at a time when SUVs were just starting to rise. in power. , but there was still interest in sports cars.
It had a very attractive design, following the line of the Peugeots of the time, and an element which became the center of attention: its double hump roof.
It was available with a 1.6 liter THP petrol engine, with 156 and 200 hp, as well as a 1.6 HDi with 163 hp. Additionally, there was an R version that reached 270 HP. The change can be manual or automatic, depending on the version.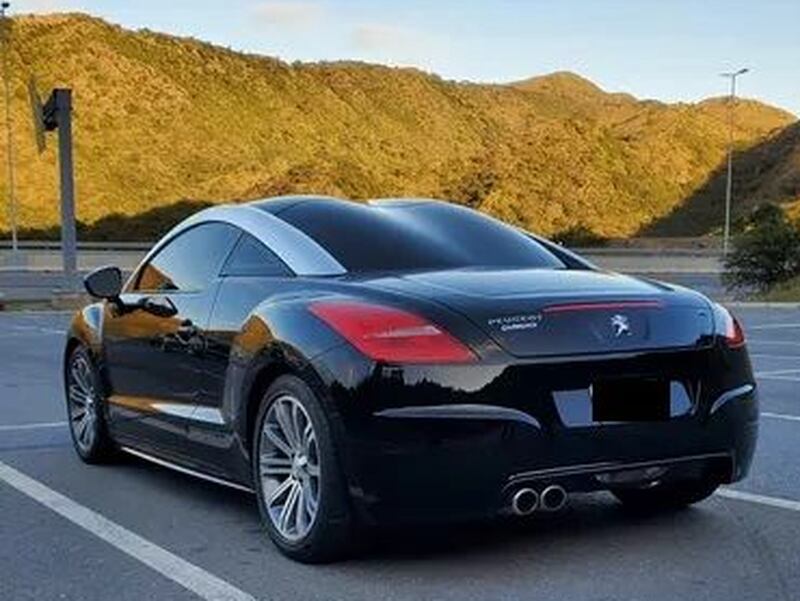 Besides the Sprinter and the Peugeot RCZ, Milei has been spotted with other cars on other occasions. Although no details are known, the new Argentine president is known to own several classics and there is a video from 2020 in which he is seen driving a tuned Volkswagen Bora.
From now on, Javier Milei will have to use the official car for his travels. Since Domingo Sarmiento, in 1870, used a Delaye tank as his first presidential vehicle, many automobiles have served the tenants of the Casa Rosada. The first official car was a Renault S, acquired for President Julio Roca in 1904.
It was Juan Domingo Perón who introduced Cadillacs for his travels. The president owned, among other things, a Cadillac 75 Limousine from 1951, a Cadillac de Ville or a Cadillac El Dorado II from 1955. With the return of democracy, Raúl Alfonsín introduced a European model to the already available Rambler Ambassador and Lincoln Continental. It was the Renault 25 TXE Limousine.
The last tenants of the presidential palace have had different makes and models to move around. So, for example, Cristina Fernández de Kirchner owned models such as the Volkswagen Passat CC, Audi A6 and Audi A8 L.
Mauricio Macri used a Volkswagen Touareg, a Chrysler Town & Country, a Kia Carnival and a Mercedes-Benz Vito. For his part, Alberto Fernández, outgoing president, owned two Toyotas: Corolla and Fortuner, which will be the ones used by Javier Milei.
Source: Latercera